► PLAYER
Solo
Click song titles for lyrics.
«The Escapist to dobry tytuł, bo Gaba Kulka znów uciekła konkurencji.
Tak dojrzałej, w pełni autorskiej płyty - bo główna bohaterka nie tylko śpiewa, ale również komponuje, pisze teksty, aranżuje, produkuje, gra na fortepianie, klawiszach, ukulele i przeszkadzajkach - nie nagrała żadna polska wokalistka od czasów... 'Hat, Rabbit'.
Słychać przy tym, że Kulka przez ostatnie pięć lat nie próżnowała, że jej charakterystyczny styl, już wtedy zdefiniowany, wydestylował w zupełnie osobny muzyczny język.
'The Escapist' jest materiałem świetnie wymyślonym i znakomicie zrealizowanym [z pomocą producenta, Marcin Borsa - przyp. red.]. Tam gdzie jej koleżanki śpiewają, tam Gaba, niezwykle muzykalna i jak zawsze skora do brawury, bawi się dźwiękami, żongluje nimi, interpretuje... Niby to kraina łagodności, ale podszyta drapieżnością. Niby koronkowe, czarujące niuansami ballady, opierające się głównie na szlachetnym brzmieniu fortepianu, ale przecież zdarzają się na 'The Escapist' chwile, w których ten zupełnie nierockowy skład brzmi mocno i porywająco. Zasługa w tym zarówno samej Gaby, jak i jej kolegów: klarnecisty Wacława Zimpla, którego gra dodaje temu materiałowi aury niesamowitości oraz znakomitej, bardzo wszechstronnej sekcji Rasz/Traczyk, która potrafi grać zarówno ciepło, ze swingiem, jak i twardo, mechanicznie, ostro.
Płytę zamyka przeróbka utworu Queens Of The Stone Age. Można to odczytać jako muzyczny dowcip, lub szczery hołd Gaby Kulki dla idoli zza oceanu. Ja jednak widzę w tym przede wszystkim dowód na słuszność teorii, że muzyka tak naprawdę dzieli się tylko na dwa gatunki - dobrą i złą. 'The Escapist' to samo dobro.»
Jarek Szubrycht
Dziękujemy funduszowi promocyjnemu STOART za pomoc w realizacji albumu.

« On November 4th, Gaba will release, "Wersje" (Versions), her first solo album since the gold-certified "Hat, Rabbit" in 2009. The album encapsules her evolution as an artist: It sets out to be both a look back on what she has accomplished so far, and a bold update to her sound, pointig towards a different musical future. "Wersje" also bears an innovative approach towards music production : recorded infront of a live audience, but mixed pronouncedly like a studio album, meddling with the sound and texture of the songs, anything but a classic "in concert" recording. It was co-produced with Marcin Bors (responsible for, among others, latest Hey and Nosowska albums). »





Hat, Rabbit

(2009)

Buy CD
Buy digital
1. Hat Meet Rabbit
2. Heard The Light
3. Aaa...
4. Niejasności
5. Love Me
6. Challenger
7. Emily
8. Kara Niny
9. Lady Celeste
10. Propaganda
11. Bosso

12. Słuchaj
13. Over



(digital only)


14. Devil's Headlights



« I am so surprised, I surprise myself. Burried in heaps of foreign records, I luckily overlook the reductive, muddled, and pretentious offerings of the local Justynas, Edytas and Szymons. When all of a sudden I stumble upon Gaba Kulka. To be more precise: upon her new album "Hat, Rabbit". And that's it. First of all, I felt a tickle of schadenfreude, realizing that all the professional pidgeon-holers will have a hard time fitting Gaba into any particular comfortable genre-box. Gaba takes a jolly romp across styles (pop, rock, jazz), moods and sounds, and follows her heart - it does lead her in a very good direction indeed. Second of all, thrid of all and so forth - everything here is exceedingly good. The music, the lyrics in Polish and English (her own), the arrangements are all modern and do not attempt to butter up the audience with any "mass radio appeal". It's a perfect, clear and dynamic recoring - one worth having a some good sound equipment. Gaba's previous record, "Out" was an intriguing venture, but somewhat "low profile". On "Hat, Rabbit" we get an artist in full bloom, impressively on top of the whole creation. Brava!"»

(Wojciech Mann - Polityka)



Out

(2006 / 2009)

Buy CD
Buy digital
1. in the lens
2. new to somebody
3. an orange
4. (zabaweczka)
5. laleczka
6. spitting image
7. airlock
8. death won't save the day
9. shark
10. this city
11. rolemodels
12. pilot
13. królestwo i pół

14. out
15. king of rats
16. napisy końcowe



bonus:


17. London Calling
18. love me (demo)
19. jealousy
20. bodybags
21. knock knock

(18-21 are songs from 'Between miss Scylla and a Hard Place')


« One of the most interesting records I've heard in a while. Stylistically and vocally it reminds me of Kate Bush at her best, circling around jazz, musical theatre and pop. An expressive piano, a captivating, semi-theatrical vocal, a keen use of electronic intruments, reminiscent of 60's and 70's psychadelia. All these elements remain subtle, painting images in the background - you will find plenty of those throughout the album. The Warsaw vocalist and pianist has written, arranged and recorded the whole album in her own flat. Unbelievably, it sounds like something straight out of Columkbia Records studios.»

(Tomasz Jakubowski - Audio)



Live Rabbit (DVD)

(2010)

Buy DVD

1. Królestwo i pół
2. Propaganda
3. Laleczka
4. Rolemodels
5. Bosso
6. This City
7. Heard the Light
8. Niejasności
9. Magdalena


(A Perfect Circle)


10. Słuchaj
11. Kara Niny
12. Shoes

13. Hat, Meet Rabbit
14. Love Me
15. Over
16. Na Pierwszy Znak

(Ordonka)





(Extras)




"3 For The Road" -
a documentary of Trojka Tour(Gaba Kulka, Czesław Śpiewa, Dick4Dick)
"Niejasności" video
"Devil's Headlights"
photo slideshow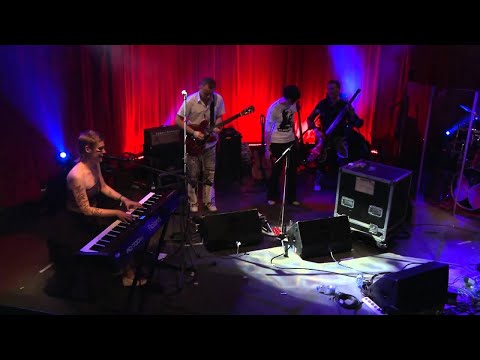 ► Propaganda
Gaba's first concert DVD came out on November 26th 2010. The performance was recorded in Cracow's Studio Club, almost exactly halfway through the Trojka tour, which saw Gaba play alongside bands D4D and Czeslaw Spiewa. Here's what gaba says about the recording: We played songs off "Hat Rabbit" and "Out", but also some covers and a rarely performed song "Shoes" from the ancient "Between Miss Scylla and a Hard Place" album. On top all this, we added a special mini documentary about the tour - shot by Kasia Paletko and Maciek Szupica - trying to record our ups and downs of being on the road. If you ever wonder what radiohead's "Creep" sounds like with all the "r"s replaced by "d"s, this is the film for you. In the bonus features you'll also find the video to "Niejasnosci" and the previously unreleased song "Devil's Headlights" accompanying a slideshow of tour pictures.
Other projects



The Saintbox

(2012)

Buy CD
Buy Digital
I. Fiolet
II. Comfort Credit Image
III. Somnia
IV. Desantisbox
V. L'hiver
VI. Hope
VII. Eulalia
VIII. Luna
IX. Third Coming



« Even though the first promotional single ? Eulalia ? was compared by some critics to the works of Kate Bush, you need to realize it?s the most easily accessible track on the record. What do we get on The Saintbox instead? A wide palette of sounds and emotions. I may be exaggerating but the album offers more depth and variety than uninitiated might expect. Forget your notions about predictable song structures, catchy choruses and safe arrangements. »
(Polishsound.com)



Baaba, Gabriela i Michał
Piastelsi EP

(2013)

1. Piastelsi (Baaba i Michał)
2. Znajdziesz Mnie Znowu (Baaba i Michał)
3. Spotkam Ciebie (Baaba i Gabriela)
4. Metalowcy (Baaba i Gabriela)


Buy vinyl
Buy digital

A brief but heartfelt tribute to the Polish big-beat era: two hits (from the repertoire of Dzikusy and Zbigniew Wodecki and the Partita group) and two unknown gems from metal-industry bands (we do not mean industrial metal bands) Porum and Stowarsi.



Baaba Kulka

(2011)

CD+DVD LP
MC + mp3 Digital
1. The Number of the Beast
2. Wrathchild
3. Aces High
4. To Tame A Land
5. The Ides of March
6. Prodigal Son
7. Children of the Damned
8. Flight of the Icarus
9. The Clairvoyant
10. Still Life





«In 1984, Iron Maiden brought a massive stage show through Eastern Europe, performing in five different Polish cities. The love Eddie and the gang showed for the other side of the Iron Curtain comes back here, with Baaba Kulka?s off-the-wall tribute to the metal giants. Polish electro-jazz-rock band Baaba provides the background music, lurching between Klezmer, gypsy-rock, and even something that sounds like lounge music from the future. Singer Gaba Kulka unleashes big, jazzy singing overtop, belting the hell out of fan favorites you?ve never heard like this before. The set brings out the cartoonish fun that always lurked not too deep within Iron Maiden songs, but without an ounce of irony or condescension. It?s a boisterous celebration by a collective that may not have a metal bone in its body, but invite big grins while you sing (and dance) along with the wildest crossover album this side of Warsaw. »

(Covermesongs.com - Album of the Year 2011)

«Well, let's just get this out of the way, it's not going to open any moshpits. However, hearing Baaba Kulka's unique take on each individual track is still a pretty rewarding experience. The familiar kick-ass lyrics, backed by a rich variety of tones and textures, takes you on a potted saunter through Maiden's early history. You can hear that each track treats each lyric as if it's something to be adored and cosseted; granted its own particular space and mood. Believe me, when I say you can feel the love.»

(Metaltealuk.com)





Młynarski
Plays Młynarski
- Rebeka nie zejdzie dziś na kolację

(2010)

Buy CD
1. Nie ma jak u mamy
2. Róbmy swoje
3. Fruwa twoja marynara
4. Ogrzej mnie
5. Ballada o dzikim zachodzie
6. Podchodzą mnie wolne numery
7. Ballada o tych co się za pewnie poczuli
8. Panowie, bądźcie dla nas dobrzy na zimę
9. Lubię wrony
10. La valse du mal
11. Jesteśmy na wczasach
12. Szara Kolęda (with Wojciech Młynarski)





« What Kulka sings and Jan Mlynarski's band play are not mere covers of past hit songs, but a thoroughly original treatment of those. Jan Mlynarski, as producer, has managed to keep the charm and meaning of the originals intact, but gave them a feel that is - well - not just modern, but timeless. »

(Mirosław Pęczak - Polityka)

«Hats off not only to the Author and his son, who conceived this record. Gaba Kulka sung Mlynarski's lyrics in a way which uncovers new meanings, and a lot of her vocalist peers would have trouble with this, if only because they don't usually deal with lyrics of this quality. Kulka climbed the Himalayas, and she had some trustworthy fellow travellers: aside from Jan Mlynarski you can hear Kuba Galinski, Wojt